The need for help and support is always a challenge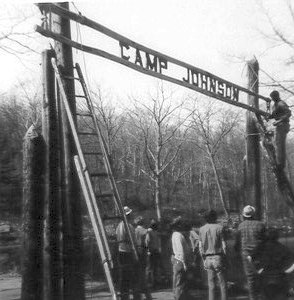 The camp was born with the donation of 56 acres of land. From that point on the trustees were on their own. Sweat equity, along with yearly financial gifts by Manchester scouting units got things started. Local cooperate and fraternal organization were asked, and responded by supporting various improvements such as building the dam, drilling the wells, placement of a latrine, and paving the road. In many cases businesses responded to needs by donating materials at cost or free equipment use. Through all this cheerful help our camp was born.
A great deal of history may be researched by going to your local library or historical society and referring to "Camp Johnson the first 50 years", by Milton Shaw, trustee.
The camp is now incorporated and is still a non-profit operation. All donations are tax deductible. Also, it should be noted that ever since its inception The Camp Trustees, Directors, Campsite Committee Members, and Camp Masters have all served without remuneration of any kind.
The more recent camp, upkeep and capital improvements have all been subsidized by personal and unit donations as well as cooperate gifts for material and donated labor by the camp personal. The camping use fees generated defray on-going operational expenses such as phone, electricity, fire insurance and minor repairs.
As well as money Camp Johnson also needs more willing hands to lighten the load, which is now accomplished by a small dedicated group that believe in this 54 year old project. We have need for many skills, carpentry, plumbing, electrical, forestry, erosion control or just helping hands.
All units, individuals, businesses or corporations, who wish to make tax-free contributions of money or service, please contact any of the listed volunteer directors for more information.
Good things seldom happen by accident, it is dedication and hard work that make it look easy. There are four decades of work and love that make this camp a living place for scouting to happen. If you believe that this is still a place for memories to begin and friendships to be forged come join us. This is a great place for scouting to start and our camp to begin its second fifty years.