A Scouting Gem In The Bolton Hills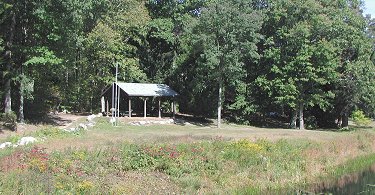 Short-term wilderness tent camping for scouts and selected youth groups. Featuring a 24 by 34 foot meeting hall with benches and tables. A raised hearth fireplace and an old-fashioned potbelly stove supply heating. There is an attached annex for storage or cooking.
Two 16 by 24 foot pavilions with picnic tables, a barbeque fireplace, two Adirondack Shelters in the tent sites, a parade field with flagpoles and a large campfire ring round out the facilities.
Numerous tenting sites accommodating two to six tents are scattered throughout the property. A large glade will accommodate group camping.
A two-acre pond with a beach is available for summer actives and fishing is allowed. In the winter the area becomes suitable for ice-skating.
Drinking water is available at a hydrant just out side the main cabin and a hand pump is located at the west end of the firebreak.
Two pit latrines are located at each end of the camp.
Reservations
View Current Reservations
Online Reservation request form
Copyright © 2021 * John and Frederica Johnson Memorial Camp, Inc. * Privacy Statement