The following camp areas are available for reservation. See the Map for their location in camp.
Turner Cabin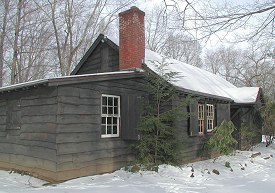 The Turner cabin with its large raised hearth stone fireplace and potbelly stove, for keeping out New England winters. Inside are tables and benches for serving meals or using electronic training aids or just reading your handbook. An attached room with a small wood stove serves well as a food preparation site. Due to local codes sleeping is not permitted in the cabin.
Just out the front door is an area with a large outdoor cooking grill and a 24 x 16 foot pavilion and several picnic tables. Lighting makes this area useable at night. A water hydrant is located outside the back door and a latrine is another short walk further. The whole center camp area over looks the two-acre Ennis Pond.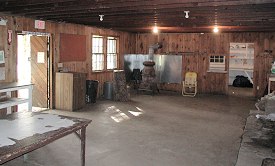 Cub Area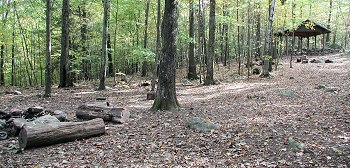 A large troop sized tenting area adjacent to another 24 x 16 foot pavilion with picnic tables called the cub area is located to the South across the main dam. The area is suitable for larger family sized groups of 30 or more.
Well Two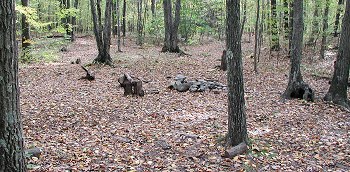 The well two West region with patrol sized tenting areas suitable for large groups. Drinking water from a hand pump is available. The firebreak road from the parking lot terminates at the pump. There is a latrine adjacent to the campsites.

Lynn Shelter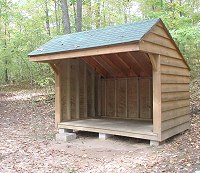 Located in the mid-camp West region is the Charles Lynn Memorial Adirondack shelter and several patrol tent sites.
Missell Shelter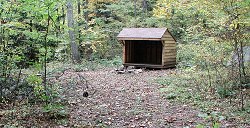 Located in the mid-camp East area is the Edward Missell Memorial Adirondack shelter and several patrol tent sites.

East Region
The East region located in the hills in back of the main cabin offers several tent sites and tent camping along the high ridge over looking the center camp area.
South Region
The South region located on the hillside across the pond from the main cabin offers hillside camping and may be accessed from either the Wicks pavilion or the training area just across the upper dam.
Common Areas, shared by all groups
The common areas are Brown Sea Field with three flagpoles, suitable for troop and pack formations and open area demonstrations is located between the pavilion and the pond.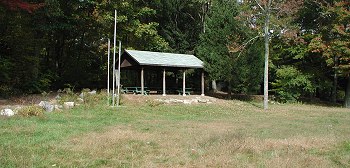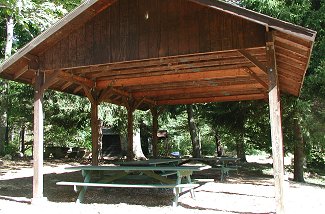 The council fire area with an alter fireplace and seating for 30 to 40 people is located at the water's edge.
The training area located across the small dam South of the Campmaster Cabin is an area suitable for teaching outdoor scouting skills.
The parking area at the end of the access road adjacent to the beach and the main dam will accommodate 20 to 30 cars. The farthest sites are one-quarter mile hike.
The main camp road is not plowed in snowy weather, another quarter mile from Johnson Road.