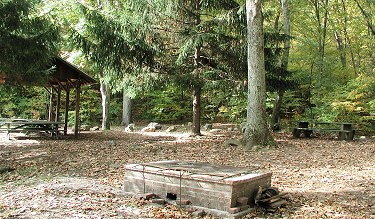 A Camp Johnson Campmaster will check with you during your stay. Campmasters are there for the mutual benefit of the customer and the camp. They will answer questions, clarify camp rules, assist you in program planning (at your request) and address problems that may arise.
A unit roster is required.
For Boy Scout units, a signed council tour permit is required.
Fires are NOT to be left unattended. All outdoor fires MUST be extinguished and cold to the touch. All indoor fires may be banked with no flame. DO NOT use water in the fireplace or stoves. Replace all cut firewood that you use.
Use the latrines provided.
Carry out all your trash and garbage.
Drink and cook with water you bring or that you draw from either well.
Camp policy: THE USE OF DRUGS, ALCOHOL AND FIREARMS IS PROHIBITED.
Do not camp or build ground fires on the parade field and/or the level ground adjacent to the cabin and road.
Do not swim or skate without permission from the Campmaster.
When you leave, secure the cabin shutters, put out all lights, turn off water pump power, lock the cabin and gate.
Report serious trespass or problems to the CT State Police, (860) 643-6060, or emergency 911.
In case of in camp problems, call The Head Campmaster or any Officer.